Compliance
PharmaTech Consulting Group, Inc.. provides FDA and FTC Consulting services to FDA Regulated Industries domestically in the United States and Internationally around the world. We serve the Pharmaceutical, Dietary Supplement, and Biologics industries. Our FDA Consultants are ready to provide the following services to help ensure your regulatory success:
International Specific Services:
Assistance with FDA Registration and Product Listings

US Agent Services and Representation

US Regulation Training

International Inspection (cGMP and Pre-Approval) Training

NDA/ANDA/BLA/CTD Submission Assistance

PMA/510(k) Submission Assistance
Regulatory and Compliance Services (Domestic and International):
Executive Counseling on FDA Compliance Matters

FDA Registration and Product Listings

Quality System Assessments

Compliance Improvement Strategies

Pre-Approval Readiness

Mock ANDA/NDA/BLA Pre-Approval (PAI) and cGMP Audits

Clinical Investigator, Sponsor and IRB Audits

QSIT and QSR Assessments

cGMP, GCP, and Pre-Approval Training

NDA/ANDA/BLA (CMC) Submission Assistance

PMA/510(k) Submission Assistance

Vendor Audits and Qualification

FDA 483/Warning Letter Responses

FDA Inspection Preparation and Training

Liaison with FDA District and Headquarter Offices

Part 11 Assessments and Remediation Assistance
Operations and System Support (Domestic and International):
Risk Assessment and Crisis Management

Standard Operating Procedure Development

Comprehensive Quality Assurance, Quality Control, Manufacturing,
and cGMP Support

Temporary Personnel Assistance and Substitution

Quality Systems Design and Implementation

Validation Support and Protocol Development

Statistical Process Control and Quality Applications
PharmaTech has helped clients maintain compliance, providing a full range of cGMP, cGCP, cGLP,PV audits and SOP development, quality assessments, mock FDA inspections, risk assessment and ISO 13485.
We have conducted cGMP audits worldwide and are often called upon to assess and remediate the most difficult manufacturing compliance issues. Whether the issue is with sanitation, labeling, validation, SOPs, training, manufacturing records, aseptic processing, product adulteration, raw materials storage, risk management or other quality issues, we provide the regulatory and manufacturing expertise required to help our clients prevail.
Over the past few years, our cGMP auditing services have grown as our abilities and the quality of our audits are recognized among industry executives. Our auditors and managers are seasoned professionals with advanced degrees. They are the best in the business.
We are not a CRO and therefore are able to provide totally independent clinical assessments. Our consistency in audit reporting, high-level analyses, use of the best audit talent, and competitive pricing are just a few of the hallmarks that appeal to our clients, especially for urgent or for-cause audits.
We assist companies at all levels on the spectrum of compliance. As you can see below, for clients at the top of their game, we provide auditing, quality assessments, risk analysis and SOP writing, etc. On the opposite end of the spectrum, we are often asked by legal counsel to assist companies who have responded inadequately to FDA admonitions. For these clients, we mobilize and work hard to restore them to full FDA compliance.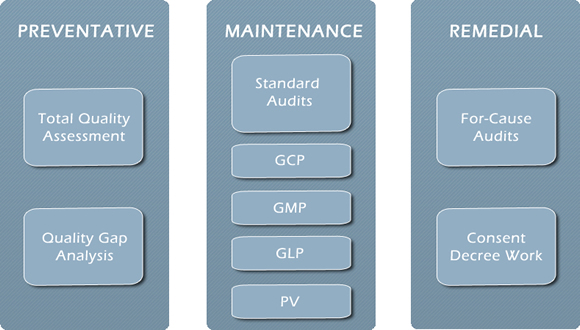 At PharmaTech, our consultants and scientists possess extensive knowledge and expertise in both the dietary supplement and pharmaceutical industries. Our team is available to assist you in solving your most challenging dietary supplement quality, method development and regulatory issues.
Our team of experienced professional consultants and trainers can help you improve your competitive edge through:
Operational Excellence Through Quality
We can keep you ahead of your competitors and provide operational improvement through:
Implementation of cost-effective, compliant quality-management systems.

Auditing your current operations and assisting with the development and implementation of a supplier qualification program for your operations. This is achieved by auditing your suppliers, for compliance with 21 CFR 111 Good Manufacturing Practices requirements and for benchmarking against current industry best practices.

Development and training of your staff – at all levels – through industry-leading educational and training programs scheduled throughout the year or through a on-site training specifically customized for your company's needs.
Speed to Market through Compliance
PharmaTech can help you get your products approved in key international markets as quickly as possible by providing you with world-class consultancy, auditing and training in:
Product label reviews/translations

Product registration

Regulatory/Good Manufacturing Practices compliance
Scope of Our Capabilities
With our headquarters located in Reedsville, PA, we have more than 7,000 square feet of state-of the-art laboratories, including an extensive array of instrumentation and technologies with a variety of scientists. Our team of highly trained experts includes chemists, microbiologists, and pharmacologists. The variety of our experience in working with the dietary supplement industry – combined with exceptional teamwork and customer service – enable PharmaTech to solve your most challenging undertaking yet.
Our capabilities include:
Consulting

Auditing

Training

Testing Services

Regulatory Support Services